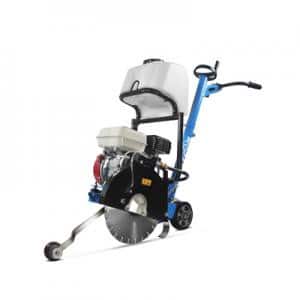 Bycon DFS-350 Petrol Floor Saw
Ideal utility saw
Cutting depth 140mm
Sales
For more information on this product, please enquire via email or phone 01252 524141.

£1,395.00 (ex VAT)
Add to basket
Floor saw DFS-350 is a small road cutting machine.
Max cutting depth is 140mm, suitable for cutting concrete and asphalt and ideal for small road repair jobs, cutting small trenches for pipe laying or cutting in difficult to access locations.
It has an adjustable handle and extendable right rear wheel for increased stability.
Main Features:
1. Easy to transport due to small and compact design
2. Stability and manoeuvrability: the handle is adjustable and operators can extend rear wheel to stabilise the machine.
3. Low vibration
4. Adjustable handles for a better and closer position to the cutting side.
5. Protection to saw blades: operators can raise and lower the saw blade by means of the spindle and the cutting depth is visible. As a result, the saw blades won't get warped or damaged.
6. Front guide for straighter cuts. The guide can be raised up.
7. 25L water tank
8. Standard flange spraying for improved blade wear
9. Equipped with standard saw blade flange
| Descritption | Result |
| --- | --- |
| Max Blade Size | 14"(350mm) |
| Max Cutting Depth | 140mm |
| Depth adjustment | Handle rotation |
| Driving | Semi‐self propelled |
| Water tank | 25L |