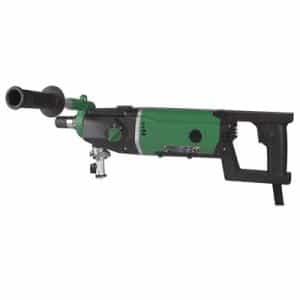 Bycon DMP162D Diamond Drill
Bycon DMP162D Diamond Drill
Sales
For more information on this product, please enquire via email or phone 01252 524141.

£695.00 (ex VAT)
Add to basket
Main features:
1. 3-speed gear regulation and variable speed thumb Wheel: variable speed for drilling concrete core in various diameter. The built-in variable speed thumbwheel lets operator control the suitable speed at different conditions.
2. Two operation methods: only 7.3KG, free-hand operation. Or fix to drill rig through the 60mm bracket.
3. Adjustable front handle: easy to loosen handle.
4. Level gauge equipped: to check if the position of the motor is in horizontal stage or not.
5. LED indicator light: Red light means the carbon brushes need to be replaced. The yellow light indicates overloading and overheat warning and protection.
6. Advanced motor control & protection: this model has Soft Start inside. And with overloading protection.
7. PRCD fitted for production: It will help when turn on the motor. Besides, it will protect core drill motor in electric leaking or in unsteady voltage situation.
8. Mechanical slipping clutch equipped: to ensure safety as much as possible.
9. External carbon brushes: operators can change carbon brushes easily, no need to disassemble motor.
10. Magnesium shell: AZ91D magnesium alloy metal case.
11. Quick connector for water tube.
| | |
| --- | --- |
| Power | 2200W |
| Voltage | 120V |
| Current | 15A |
| Frequency | 60HZ |
| Max Portable Drilling Diameter | 162 mm |
| Max Drilling Diameter with Stand | 202 mm |
| No load speed | 650/1300/2600 RPM |
| The Portable Drilling Diameter of 1,2,3 Gear | 162 mm / 82 mm / 42 mm |
| The Drilling Diameter with stand of 1,2,3 Gear | 202 mm / 102 mm / 62 mm |
| Spindle thread | 1-1/4" UNC & 1/2" G |
| Drill Stand for Option | DSP-162 DSP-252 |